What do we offer your child on Sunday morning?
On Sunday mornings, we offer two opportunities for your child to learn about at 9:30 and 10:45. First, at 9:30 we have small groups for everyone from infants - 5th grade! This is a great way for your child to hear Bible stories and experience age-appropriate activities that reinforce the Bible story and the life application. We have top notch teachers that volunteer their time to connect with each child so they can learn more about the God who loves them and how to apply God's Word to their own life.
Then, at 10:45 we have Preschool & Kids Worship for all of our friends from infants - 5th grade. This is an exciting large group format that is geared to the two different age groups. Our Preschoolers visit the Wonder Clubhouse to have fun together and learn about the Bible through engaging stories, songs, and hands-on activities. Every Sunday, we aim for each child to leave knowing "God Loves Me, God Made Me, and Jesus Wants to be my Friend Forever."
During this same 10:45 time, our Kindergarten - 5th Graders go to Kids Worship - a large, kid-friendly room where they have the opportunity to learn and worship through dynamic skits, exciting games, interactive participation, and a whole lot of fun! This is an exciting, engaging time in person where your child will work on memorizing Scripture, hear a Bible story, and learn how to apply God's Word to their own life. We have a place for your entire family every Sunday morning at 9:30 and 10:45!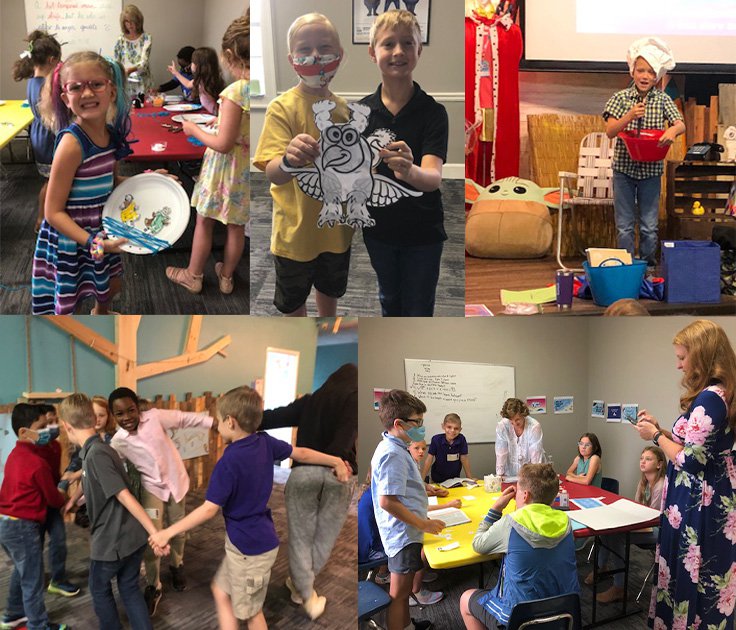 What do we offer your child during the week?
Here at MPKids, we offer many ways throughout the year for our children to come together and fellowship with one another while learning about how much Jesus loves them. We do this in various ways throughout the year. This summer we met together on Wednesday nights to have a race-themed Bible study for our preschoolers and elementary kids along with a Pinewood Derby!
Currently, we are using some of our midweek evenings to connect with our community! On the evenings of September 2, 16, and 26 and October 12, we'll be at the Mountain Park Athletic Association from 6:00-7:30. Our MPKids and their families are invited to Mountain Park Park for a fun time of fellowshipping with our community's families. We'll have music, giveaways, games, and lots of smiles and Jesus' love to share! We'd love for you to join us!
On Sunday, October 30, we'll also be at Mountain Park Park hosting a fabulously fun Fall Festival with oodles of candy in our Trunk or Treat area! Get those costumes ready and be sure to come out for all the fun!"