About Mountain Park Wellness
Mountain Park Wellness aims to make disciples of Jesus who love Him with all their heart, soul, mind, and strength by promoting physical wellness.
Hours:
Monday - Friday: 8:00 AM-12:00 PM
Saturday: 9:00-12:00 PM
Amenities:
pickleball courts, walking track, weight room, two treadmills, two elliptical machines, two stationary bikes, two recumbent bikes.
Classes of Offered by the session for 12 weeks:
Silver Sneakers Circuit
Low Impact Cardio & Strength Training- M/W 8:30-9:30
Silver Sneakers Classic
Chair Low Impact Cardio & Strength Training- M/W 10:00-10:45
Silver Sneakers Stretch
Stretching for Flexibility in a chair– Fridays 11:00-11:45
Silver Sneakers Stability
Balance for Fall Prevention- T/TH 11:00-11:45
Fun Friday Cardio, Strength and Core-Fridays 8:30-9:30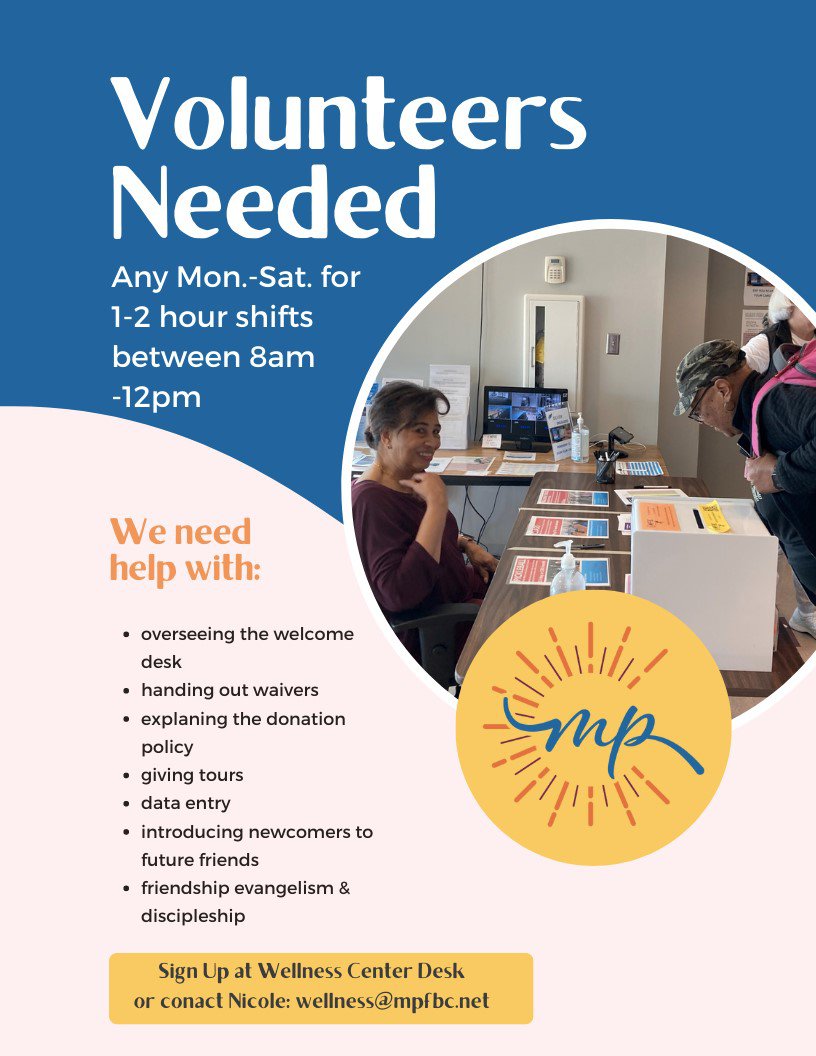 What is wellness anyway? While "fitness" usually refers to physical health, "wellness" has a multi-dimensional aspect including emotional, occupational, cognitive, social and spiritual health. We have the privilege at MPFBC to integrate the invitational love of Christ with the very practical services of an exercise facility. This facility attracts people from all over the community who may otherwise never set foot in a church. We have a wide-open evangelistic door in front of us! Additionally, we don't just exercise for physical benefits. For the Christian, the motivation for wellness is even better.
Paul tells us that while in this "earthly tent" (our physical bodies), we groan waiting for the day of our heavenly dwelling (2 Cor. 5:2). We are not to be too "at home" in the body, but to keep our eyes fixed on Jesus with an eternal perspective. "We would rather be away from the body and at home with the Lord" (2 Cor. 5:8). "Physical training is of some value, but godliness has value for all things" (1 Tim 4:8a).
At the same time though, we must take care of our bodies as stewards. Our bodies are the temple of the Holy Spirit, and "you were bought with a price"; therefore "honor God with your bodies" (I Cor. 6:19-20). We stay as healthy as we can because God has His "good works which [He] prepared in advance for us to do" (Eph. 2:10b)! And that work will be until the day He calls us home. So we "discipline [our] body like an athlete" (I Cor.9:27) and "run in such a way as to get the prize" (I Cor. 9:24).
Why? Because we sacrifice everything for the Kingdom.
Want to Learn More?
Want to learn more or have questions about MPFBC Wellness? Simply fill out the form below and we will reach out to you!